Ezequiel Luberriaga is the current People Manager at Colppy, who told us everything about how they work on their people management with a welcoming company culture. Stay tuned to learn all about their culture and the initiatives they promote to achieve great people management!
Colppy is an accounting management system for small and medium businesses.
Led by Ezequiel, the People team at Colppy manage all employees across Argentina! Together the People team work on their people management and manage teams effectively so they function as one.
"Whether they stay with us 2 years or 10 doesn't matter. What matters is the time they are with us has to be a happy one."
Priorities: Attracting talent with Company Culture
When it comes to their people management and company culture, Colppyers are clear: "We don't expect people to stay with us forever. But we want them to remember us happily, as a place they enjoyed and were comfortable in. Whether they stay with us 2 years or 10 doesn't matter. What matters is the time they are with us has to be a happy one."
When defining Colppy's values, Ezequiel again highlights flexibility in people management. "Our values are flexibility, freedom and responsibility. We expect our employees to be responsible for their work, and so we give them the freedom to work when and where they choose. Unless it's an emergency, we don't expect people to reply immediately. We know our team cares and will deliver the results we need, but we don't believe in policing the times they are available or not." 
And that isn't everything! "Our culture is based on being a young, dynamic company focusing on People development. And so, we carry an open-door culture, where everyone can speak up and find help if they need to. Especially with newer employees, I always try to come forward and chat with them during their first few days to make sure they have everything they need."
It's no wonder their employees highlight their culture as one of their best assets! In fact, Colppy uses their culture now to both attract and retain their best talent. "One of our priorities now is attracting, retaining and developing our talent, and our culture works well with this objective. A great culture builds trust and commitment in our employees. And now, we are working towards reflecting this in a way it reaches future candidates and potential employees. Our people always highlight our culture, and so we are making the best of it."
Leading change: From a structured workplace to a dynamic one
When Ezequiel joined Colppy, the company was already in the process of becoming more dynamic with their people management. And so, Ezequiel was then able to support them in this venture. "Colppy has a great company culture, but it used to be very structured. It lacked flexibility, and so that's what we continue adding. A tech company like ours is in constant change, so our company culture should reflect that."
Working on their people management became more evident when they were bought by a Chilean company. Since then, they've had a workforce distributed in 3 different countries. "When we were bought, we wondered how we could make these 2 different companies work as one. We want people to feel comfortable working from wherever they choose. So now our challenge is, how do we make sure everyone feels included, even if they are 2000km from us? Finding a solution was key."
And so, they're making big efforts to become more dynamic and improve their processes and culture. "I love working towards improving processes, questioning what we're doing and how we can do it better. We go against companies that don't invest in their People management and often have 2 people in Human Resources dealing with hundreds of employees. Our People should be the focus of our company, because regardless of our product, our employees are our best asset."
"A tech company like ours is in constant change, so our company culture should reflect that."
So, what are they doing to become a more dynamic workforce?
Something that was very important to Ezequiel when he joined Colppy was improving their recruitment processes and times.
"We used to have a recruitment process that lasted 6 months, and now it only lasts 2 weeks. We noticed a lack of prioritization for recruitment, both from our People team and our hiring managers. And so making efforts to put recruitment on top of everything else was our priority. We wanted to show our candidates that they were joining a flexible and agile company that puts them first. By continuing a slow process that delayed and left recruitment behind, we were showing the opposite."
As one of their priorities, they make efforts to develop their people's careers with them. "You can give someone all the resources you want, but if they don't know how to use them then it's no use. And so we focus on their development and what they need to do their job and develop their skills."
Team celebration get-togethers
Since they are distributed all through Argentina, celebrating team-building events is key to Colppy's people management and fostering trust.
Team-building activities:

"We love informal meetings. Recently, we've been playing online games. Since we couldn't do in-person events during the pandemic, we became accustomed to finding fun activities to do online."
Company events: "We are preparing some in-person events for the future. For example, we are organizing an event for our company anniversary, as well as celebrations for our software development. We like these events because it allows us to meet each other without the pressure of being in a work environment."
Regular meetings: "We have regular get-togethers with all the staff, between teams, and even 1:1 meetings. We see these as a good opportunity to learn about the company's progress and update each other on our team's development."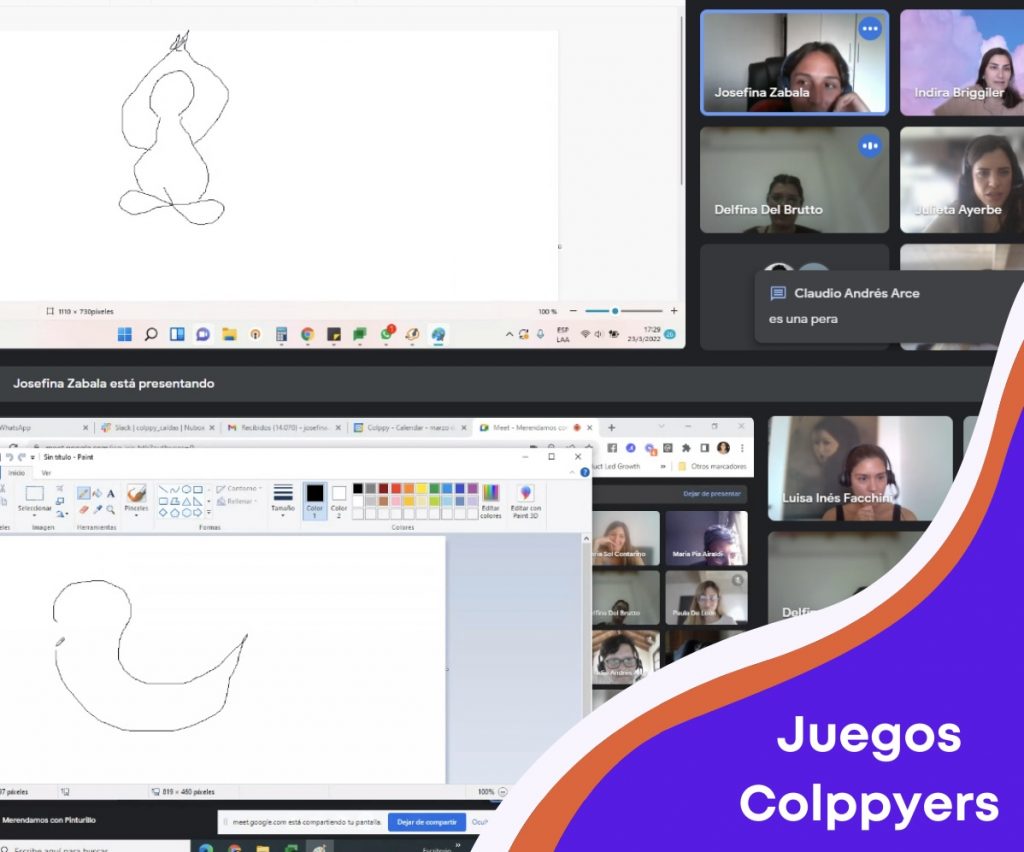 Distributed workforce: A meeting ground
Since many of their employees still enjoy the office, they keep a coworking space that people can access for meetings, team-building activities, or just to work a few days a week. "We want to use our office as a meeting ground. We will be inviting those remote employees scattered around the country to visit us at the office to build relationships and trust."
Colppy's greatest challenge: Stopping the turnover rate
"The business market was already competitive in Argentina, but now it's even worse. Before, we were competing against other local companies, whereas now we compete against the entire world. The downside is that our currency is less valued than other currencies, and so many Argentinians choose to work for companies abroad that can pay in dollars. We've had around a 12% turnover rate since the beginning of the year. So this is our biggest challenge at the moment. A high turnover rate stops us from retaining and developing our talent, which consequently stops us from growing as a business."
Unfortunately, a high turnover rate also impacts Colppy's company culture and people management. "Employee rotation affects our culture. As people come and go, it is important for us to keep our values and culture from disappearing. This is why we work hard to invest in our people and strengthen our culture. We stand out among better monetary offers with our welcoming and caring culture."
"We stand out among better monetary offers with our welcoming and caring culture."
Preparing for the future: Measuring employee satisfaction
eNPS is very important for Colppy in measuring success. "We measure our eNPS every month and evaluate satisfaction and comments. Then, we analyze areas of improvement, as well as our best practices. We are very analytical and need to understand the needs of our employees so we can provide the right resources."
Ezequiel especially believes that measuring satisfaction will be essential for the future of People and Culture. "People can work for any company they like now, without the hassle of moving and packing up their lives. And so that's where the new challenge for companies lies: adapting to employees instead of them adapting to businesses. You need to be flexible and understand employee needs. For example, people want better work-life balance now, or they want to work while traveling the world. You, as a business, have to offer the flexibility so they can live their lives while also working for you."
"Your employees and your clients are your most important asset, even beyond your product. That's why we prioritize our people over everything."
Colppy's best practices for People management
So, what are some best practices we can learn from the People team at Colppy?
1. Your people are your priority: "Your employees and your clients are your most important asset, even beyond your product. Without a good customer and employee engagement strategy, you won't sell anything and your people will leave. That's why, for our company, we prioritize our people over everything."
2. Make the most of your company culture: "We have a great company culture, so we reinforce that. We are constantly learning how to improve our culture, teamwork, collaboration, and trust. It's in our values."
3. Measure employee satisfaction to adapt to employees: "Future generations like to move around and travel. So in the coming years we should adapt our companies to our employees' lives, needs and cultures that they live in."
So, to sum it up: study your people and make them as happy as you can while they're working in your company. Here's our recommendation: use Nailted to measure employee happiness and stay on top of it! With regular feedback loops and reports, you will always know exactly what your employees need. Book a demo with one of our People & Culture experts and start working on your people management, just like Colppy!