Gathering employee engagement ideas that will improve satisfaction and retention is an essential task for People and HR teams in all companies around the world. Companies want their employees to feel engaged so they are more likely to stay and thrive with them.
So, how do you build your employee engagement? Creating a happy, employee-focused company culture is essential. When you create a culture that focuses on your employee satisfaction and happiness, then your staff will truly know you care about them.
Make an effort to implement initiatives around building your employees happiness and engagement. Here are 31 employee engagement ideas to get you started!
Top 100 Employee Engagement Ideas & Tips! Get the complete list and  take all the ideas with you wherever you go 
What is employee engagement?
Employee engagement is the level of commitment and connection your people have to your organization. When an employee is engaged, they actually care about their work and organization.
Good employee engagement is always a breakthrough because it means employees are more likely to go above and beyond to ensure great results.
Why is employee engagement important?
Great employee engagement is important because it guarantees all employees are working towards the same goal, which is the company's success. So, what can these employee engagement ideas bring to your organization?
Higher productivity: When employees are engaged, they are more likely to feel passionate about their tasks and work harder to provide better results. Engaged employees enjoy their work more and are less likely to get distracted, which means the team's productivity increases.
More employee loyalty: Motivated employees are less likely to take time off work or call out. Instead, they are more likely to be passionate about your company and recommend it to their peers and potential customers.
Mentally healthier employees: A good work environment that promotes employee engagement helps employees feel more at ease and comfortable, so they are less likely to suffer from stress.
Reduced employee burnout and increased retention: Burnout can occur as a cause of low employee engagement. Engaging employees are less likely to look for a job somewhere else and are more willing to develop their skills and career in their current company.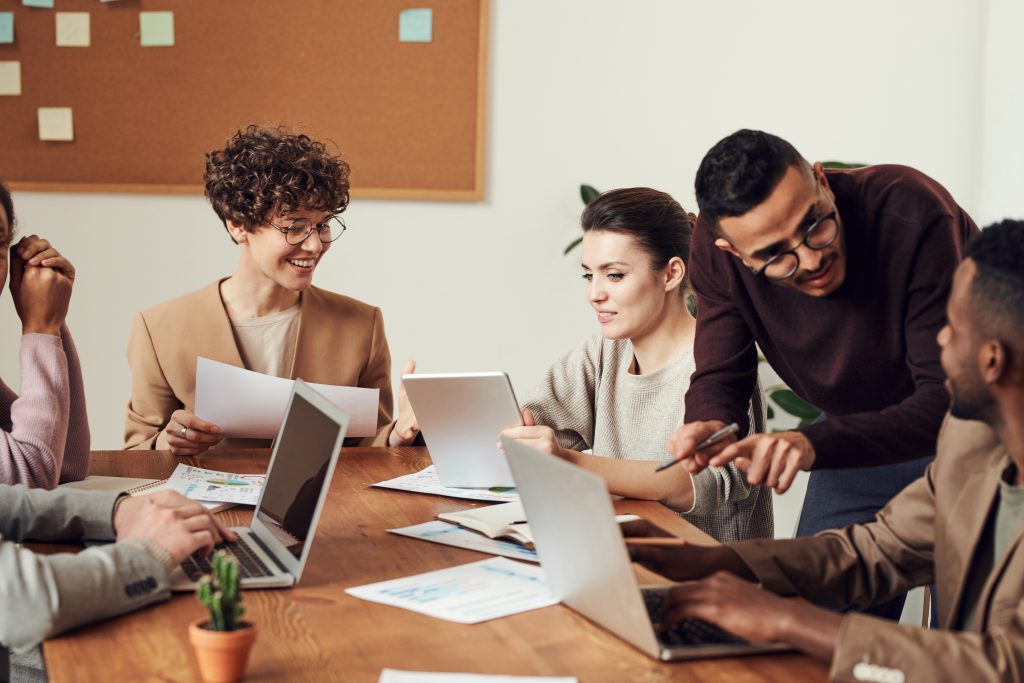 How to work on it: 30 employee engagement ideas
1. Prepare your employee engagement strategy
Gathering employee engagement ideas requires some planning and preparing beforehand. Study your organization, policies, and the needs of your employees, so you can create the best plan and initiatives that will make them feel happy to work with you.
2. Build a long-term employee engagement plan
Before you start collecting employee engagement ideas, make sure you have set out clear strategies that will drive your engagement over time. Sometimes, People and HR teams carry out initiatives that bring up engagement in the short term, but maintaining it long term is the hardest part.
Create a plan that displays the areas where you lack engagement, along with what you need to achieve better stats. We recommend setting up KPIs and a People analytics system so you can keep track of your performance and development.
3. Build channels for communication and feedback
Your team works better together when they can maintain good communication and receive and provide feedback. 
You can use channels such as a company chat or a newsboard to keep everyone up to date. Set up team and 1:1 meetings to foster communication and give everyone a voice and offer other channels to reinforce your feedback culture, such as employee surveys and performance reviews.
Managers are an essential part of your employee engagement. Make sure your employees can be comfortable approaching them with any concerns, ideas, or feedback.
Provide management training that increases empathy and approachability, and provides them with the tools to help their employees as best as they can. Managers not only need to know how to manage their people, but they also need to understand company policies, rules and processes.
5. Find employee engagement ambassadors
Especially in bigger companies, employees are sometimes reluctant to participate in employee engagement ideas or pay attention to HR newsboards.
Find those employees in your organization who are passionate about employee engagement and bringing people together. If you can get these people to share the People team's messages with their peers, you're more likely to get the attention of reluctant employees!
Use all your resources, including your ambassadors and communication channels, to guarantee your word reaches everyone. This initiative will help motivate people to participate in your team-building activities and other employee engagement ideas.
7. Offer an engaging onboarding experience
Start promoting employee engagement from the beginning! Give new employees a tour of your office so they can get to know everyone. If you're remote, you can set up a video chat to introduce them to their colleagues!
Use the first few days to train them on your company softwares, and make sure they have all the resources they need to start on the right foot.
Maintain good communication with your new hires to check in on them from time to time and make sure they are adapting well. Don't forget to ask for their feedback to find areas of improvement for future reference!
8. Assign a mentor for new employees
Starting a new job can feel awkward and daunting. Your employees will feel much more at ease if they have someone to chat with, ask questions, eat lunch together, or a virtual coffee if you're remote, and, in general, support them while they find their place in the company!
Use all your resources, including your ambassadors and communication channels, to guarantee your word reaches everyone. This initiative will help motivate people to participate in your team-building activities and other employee engagement ideas.
9. Encourage transparency and open communication
Keep everyone informed of your company decisions. You can post about them on your company newsboard or group chat, but also hold meetings where teams come together and talk about what comes next.
This initiative brings transparency and improves relationships and collaboration between teams, and who knows, it may even open up opportunities for professional development!
10. Ensure work-life balance
When thinking of employee engagement ideas, don't forget about work-life balance. Although this isn't "something people do at work", it will improve their employee satisfaction which consequently builds engagement.
11. Provide flexible and remote work
When your employees have the flexibility to go to the office, stay home, or even schedule their own work hours, they achieve better work-life balance. The tradition seems to always be to organize your life around your work, but why not organize your work around your life?
Allow your employees to start and finish their workday when it is best for them. As long as they achieve their targets and keep a steady work life, you shouldn't worry about their start or end times.
12. Create a good remote work culture
Whether your employees are 100% remote or hybrid-remote, make sure you keep a good remote work culture. Those employees working from home must be well connected and have the resources they need. There are platforms that can help recreate a "remote office", with access to video conferencing and quick calls.
Find out how to implement the best hybrid-remote work culture for your company with our guide!
13. Make sure people are taking breaks
Some employees can work for hours without taking any breaks, or even forget to take them at all. Sure, this isn't necessarily a problem if it happens once or twice, but it will definitely create burnout long term.
Check in with your employees and ask them if they're allocating some time out of their day for a coffee break, snacks, or even just sitting on the couch for 10 minutes. You can create incentives like team building breaks or coffee dates where work talk isn't allowed
14. Keep "emotional salary" in mind
Candidates are more driven to choose jobs that provide them with more free time, as well as flexible work and learning opportunities. Keep this in mind when reviewing your job ads and company policies.
You may offer big salaries, but keeping your policies up to date will attract the best talent while promoting employee engagement!
15. Check your employee benefits and perks
Similarly to emotional salary, check the benefits and perks you're currently offering, and review if they're what your employees need. Ask questions like:
Do we cover their healthcare insurance?

Are there any benefits we can add for people with families or responsibilities at home? 

What about employees who are currently studying or who want to upgrade their education?
Remember: the best employee engagement ideas are those that focus on your people and what makes them happy. Always keep this in mind when promoting new initiatives!
17. Encourage employee autonomy
An important part of employee engagement is feeling confident and satisfied at work. So what better way to achieve this than giving employees autonomy and letting them own their responsibilities?
Show them you trust them by giving them freedom to build their areas of expertise, propose new ideas, and build their own initiatives.
18. Work on employee development
Employees feel more engaged when they know their workplace helps them grow. Help your employees develop their skills so they can move around your organization, rather than finding somewhere else!
You can provide them with training or shadowing opportunities, as well as assistance and advice for promotions and career development.
19. Make sure your employees are well trained
Like in any job, your employees might find hurdles or obstacles during their day. These can sometimes be very troublesome, especially when they happen in front of a client or a superior.
Train them well so they have the resources to resolve these obstacles by themselves and they don't interfere with their workday.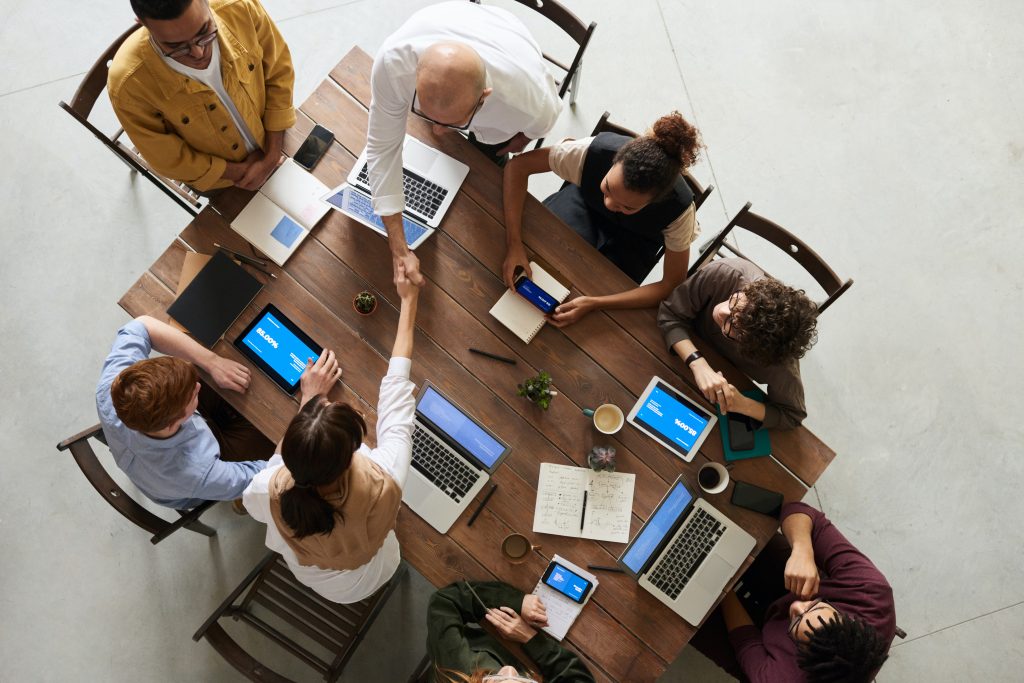 20. Offer Lunch & Learn workshops
Have you ever wondered what other departments in your organization do? Your employees sure do!
Celebrate Lunch & Learn workshops where people of different teams talk about the basics in their department, initiatives, achievements, anecdotes… These workshops can broaden knowledge for your other departments, as well as create curiosity for lateral career development!
21. Ensure employee recognition
Everyone likes to feel like their work is valued and appreciated! Make sure you make employee recognition a habit within your employees, so they feel comfortable complimenting and showing appreciation for each other's work.
You can have weekly recognition processes and encourage participation so nobody feels left out and everyone is recognized for their achievements. For example, you can establish the habit to send out weekly claps or recognition messages between employees.
Did you know that Nailted offers this feature? You can gamificate the recognition process and make it fun! Try out the feature and send claps to your colleagues. Getting a supportive message from you will surely brighten up their day!
22. Show your people that you care
If you notice that employee engagement or performance is low, it may be because those particular employees are struggling. Show them that you care by having a meeting where you talk about what they're going through and what you can do to help. 1:1 meetings with managers are a good way to help employees open up and find help.
For example, you can give them some time off if they're having issues at home, or you can offer help if they are struggling to keep up with their workload. Let them know you're not reprimanding them, and all you want to do is be there for them!
23. Promote Diversity, Equity and Inclusion
Promote Diversity, Equity, and Inclusion in your workplace and include it in all aspects of your organization. This goes from making sure your office meets everyone's needs to ensuring equal opportunities, as well as checking your workplace biases.
Nobody likes to feel left out, so make sure there is diversity in your organization and you embrace everyone's differences. But don't worry if you don't know where to start, we have an expert approved guide to help you improve your Diversity, Equity and Inclusion!
Discover more than 30 ideas for a more diverse, equal and inclusive workplace on our expert-approved Step-by-step guide to DEI!
24. Celebrate your people
Your employees surely have beautiful lives outside of your organization, so why not celebrate them as they deserve? Show them how important they are to you by celebrating their birthdays, important holidays, or other events of significance to them.
If someone is getting married, get them a gift for the newlyweds.

Throw a small party or lunch for parents going into maternity or paternity leave.

Celebrate holidays for different cultures, such as Hanukkah, or Chinese New Year.
You don't have to dedicate one full day for every celebration, but you can choose one day a month to celebrate all birthdays or celebrations of that month.
25. Celebrate team-building events
Friendships in the workplace are a good promoter for employee engagement and retention! Give your employees time to socialize and create good relationships during team building events. You can even propose to do team competitions to have fun together!
You can have company outings for a meal or a drink, or coffee dates and happy hours if you're working remotely. Treat this like a work break, no work talk allowed!
26. Support volunteering and charities
If you ask your employees, chances are many of them are passionate about certain causes or charities. Create volunteer or donation opportunities for causes you and your team care about.
You can spread awareness about social issues in the office or encourage employees to volunteer for a day. This initiative will help bring them together for something they all care about!
27. Foster a feedback culture
The best source of employee engagement ideas is… your own employees! Foster a feedback culture that allows you to collect regular feedback and make it a habit.
28. Gather feedback from your employees

Your employees know best about what makes them feel more engaged. Collect regular feedback from them to find areas of improvement, as well as successful strategies.
Employee engagement platforms, such as Nailted, that allow you to send regular surveys to employees and collect their feedback, are great for this! You could even get a suggestion box for your employees to suggest employee engagement ideas!
29. Meet your employees' needs
Check in with your employees to find what they need to succeed at their job. Do they need new equipment? Provide this for them. Maybe they found better software to process information? Help them switch systems.
If your team works from home, they may need equipment to make them more comfortable, such as ergonomic chairs or keyboards. Do what you can to provide it so they don't have to spend their own money to work better.
30. Measure employee engagement
Build a habit of regularly measuring your employee engagement, so you always know what's going on. You can achieve this through feedback loops that allow employees to evaluate your engagement, and collect all data. 
Remember earlier when we recommended creating a plan and keeping track of your KPIs? This is where they come into place. Measuring your engagement regularly and checking in with employees lets you know how your plan is doing and what you can do to improve.
Involve managers so they always know how their team is doing and whether they're doing their best to contribute to their employees' happiness.
31. Use employee engagement software
Use an employee engagement software that will ease the process of gathering feedback and measuring your employee engagement. Nailted sends regular surveys to your employees and collects all feedback and data for you so everything is in one place!
You can then use this information to evaluate your performance and improve your employee engagement plan and processes! Wouldn't this make things easier for you and your team?
Top 100 Employee Engagement Ideas & Tips
! Get the complete list and take all ideas with you wherever you go 
Build your employee engagement
At this point, you probably have a good idea on how important employee engagement is and know how to improve employee engagement with new employee engagement ideas! Remember: keep a good feedback culture, focus on your people, and measure employee engagement over time. If you keep these keys in mind, then it will be a lot easier to enhance your engagement and keep a happier team.
If you need some help, remember a good employee engagement software like Nailted can make things a lot easier for you and your team! Book a demo with our team of experts and we'll help you to gather feedback and keep everything in one place so you always know what to do to improve your employee engagement!